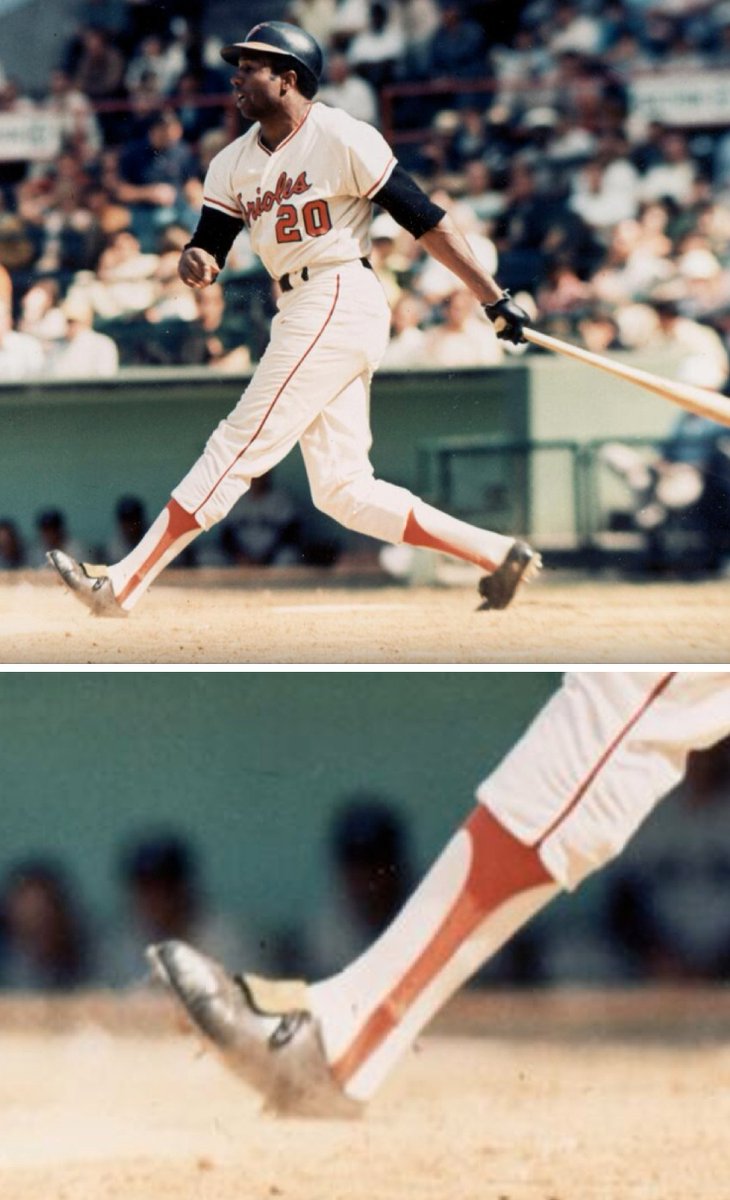 Click to enlarge
When I was 12 years old, in 1976, I read Jim Bouton's seminal best-seller, Ball Four. I was already obsessed with stirrups by that point, so I was particularly intrigued by a passage in the book about Frank Robinson's stirrups. I've quoted that passage many, many times during the 17 years that I've been writing about uniforms (most recently three Friday Flashbacks ago) — it's an "old reliable" that I never tire of. If you've somehow missed it, here it is one more time:
It has become the fashion — I don't know how it started, possibly with Frank Robinson — to have long, long stirrups with a lot of white showing. The higher your stirrups, the cooler you are. Your legs look long and cool instead of dumpy and hot. The way to make your stirrups longest, or what are called high-cuts, is to slice the stirrup and sew in some extra material.
Bouton wrote those words in April of 1969. I've always assumed he was the first one to publicly discuss Robinson's stirrups, mainly because most of Ball Four consisted of topics that nobody had ever publicly discussed before (players being hung over on the field, players having lots of extra-marital sex during road trips, coaches being assholes, etc.).
But it turns out Robinson's stirrups had been a hot topic of discussion two years earlier. Not only that, but his stirrups had led the American League to impose a rule regarding stirrups — a rule that I had been completely unaware of until now. It all adds up to a major lost chapter in MLB uniform history that's now been recovered.
The person who deserves credit for this discovery is Uni Watch reader Will Shoken. He saw the Ball Four quote in that recent Friday Flashback column and was intrigued, so he contacted his brother, Fred Shoken, who has access to The Baltimore Sun's archives. Fred did some digging and came up with several articles regarding Robinson's stirrups, which were apparently a bit of an ongoing soap opera in the the spring of 1967. (Continue reading)